Ian D Montfort
Unbelievable
gfs-61
Word has spread far and wide about the spirit medium from Sunderland. 'Montford' was his name - and he was 'the best'.

Ian D Montford is a normal man with an extraordinary gift - and although he's not sure where it came from - he is happy to share it. He feels it an honour to be chosen by the spirit world as a medium for their teachings. Ian has therefore produced this DVD to allow fans and followers alike to experience his abilities first hand, without the need for additional expense to travel to theatres.

This disc features a full show from Ian D Montfort as well as an award winning short staring hospital radio DJ Ivan Brackenbury and an interview with the actor Tom Binns. There are also some hidden features, but to experience them you will have to clear your mind for
the energy to flow around you. Failing that, there are further instructions printed on the disc.
Ian D Montfort
Unbelievable
Purchase Options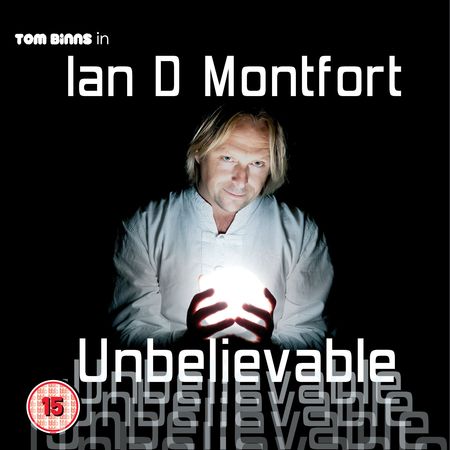 Media
Ian D Montfort, a gloriously deadpan pseudo-psychic. His show.. begins with laughable attempts to work the audience and then Binns starts unleashing faintly inexplicable clairvoyant revelations, leaving most of the room gasping with incredulity. So he can spoof it, and really 'do it'
Telegraph *****

Further Info
Technical Info
Running Times
Main Show - 56 mins
Extras - 29 mins
DVD5 - 16:9
Region 0 - PAL
Stereo, in colour
Download a Large DVD Cover
Download Version Info
main show
running time - 56 mins
download size - 896 mb

Ivan Brackenbury (live)
running time - 9 mins
download size - 112 mb

Backstage Interview
running time -13 mins
download size - 153 mb
Download Info