Collins and Herring
War and Peace, Crime and Punishment
gfs-25cd/dvd combo
Here at Go Faster Mansions, we are proud to present the not-long-awaited sequel to The Best Of Earth, Wind & Fire & Water, the first, exclusive, brand new, no-topical podcast CD from Andrew Collins and Richard Herring. For continuity, it too was professionally recorded in a studio, except this time with a Russian literary theme.

1. WAR 1h 6' 36" What is it good for? A roll-call of all Andrew's Action Men, a nostalgic look back at life in the shadow of the neutron bomb, the insulting numbering of world wars and a reasoned discussion about the New Pearl Harbour. (WARNING: Richard is poorly miked up for the first 2' 30" and Andrew sounds all loud. It's fine after that)

2. PEACE 1h 6' 36" Sticking two peace-increasing fingers up to John Lennon's lyrics, lucid dreaming without recourse to illegal marijuana, Shaggy's unlikely relatives, and a talk Richard's parents went to about dirty bombs.

3. CRIME 1h 6' 36" A charge sheet is read out, including: theft of a Twix, some deodorants, pick'n'mix and a hairdryer, failing to use the rear-view mirror, straying from one travel zone into another, and child murder.

4. PUNISHMENT 1h 6' 36" In the same casual manner, Diana Mitford survives internment in Holloway in 1940, a cat is sprayed with water, Richard has a Twitter debate about stoning, and the existence of God is proved/disproved, slightly off-topic

plus! extras!

5. POETRY CORNER 19' 50" Andrew and Richard present a smackdown of their late teenage verse: Dream Vietnam, Untitled, Skeletons, The Statue, House, Tom's Life and Street.

Remember if feeling bored
The pen is mightier than the sword
So write
Don't fight
– RK Herring

6. LIVE CARDIFF PODCAST Never-before-seen live podcast show, filmed at Cardiff's Masonic Hall on 3 November 2010 – it's the one where Andrew goes a bit nuts.

Collins and Herring
War and Peace, Crime and Punishment
Purchase Options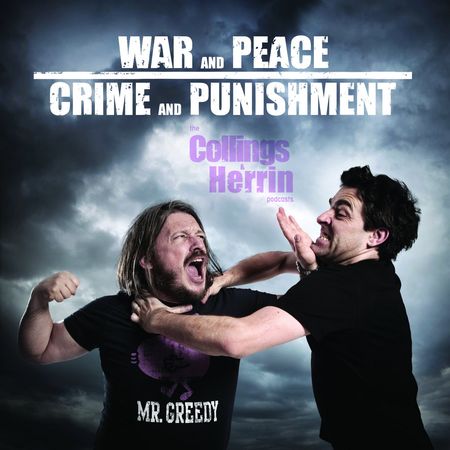 Further Info
Technical Info
Running Times
Audio - 4hr 46min
Video - 1hr 14min
DVD9 - 16:9
Region 0 - PAL
Stereo - In colour
Download a Large DVD Cover