Richard Herring
Christ on a Bike (disc 3)
COAB disc 3This is just the bonus disc
* this is just the bonus disc *

Richard Herring's Christ on a Bike comes in two different formats. There's the one you can buy in shops and on the internet, and indeed anywhere that's not here. It's a two disc set, and is all very good.

But - if you were to buy Christ on a Bike from us, you get that two disc set AND a bonus disc with loads more content.

It has come to our attention that some of you might have bought the disc from someone that wasn't us, and if that's you - here's where you can buy the bonus disc.

It contains one of the last ever Collings and Herrin podcasts - and this was never released on the internet, so can only be heard, and indeed seen, on this disc.

There's also a TV documentary that Rich made back in 1999 called 'Richard Herring in Fiji'. Because that's his name, and that's where he was.

We've also got the final part of Rich's tour diary (started on discs 1 and 2) and a few other surprises too.

If you've not got any of it, you can get the three disc set here.
Richard Herring
Christ on a Bike (disc 3)
Purchase Options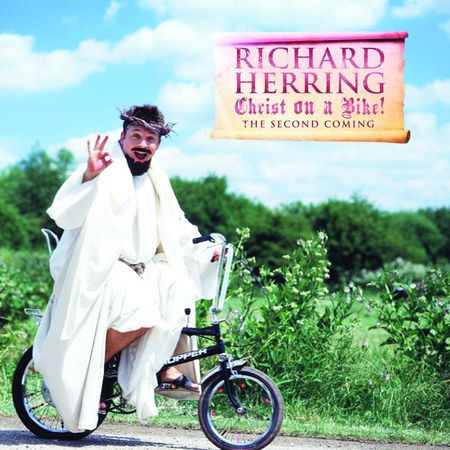 More from Richard Herring
Further Info
Technical Info
video - 3hrs 21mins
audio - 1hr 9min
DVD9 - 16:9
region 0 - PAL
Stereo - In Colour