Mark Thomas
BEST BEFORE: The Mark Thomas Comedy Product Vintage Cuts
tick-09live highlights
New to Livestreaming? Click here to find out how it all works.
The ground breaking, law changing, corporate shaking show is back. For 7 years, 6 series and a host of specials, The Mark Thomas Comedy Product caused mayhem on Channel 4's airwaves. Before The Revolution Will be Televised, Lee Nelson, Dom Jolly and Balls of Steel, this was the show that set the agenda. It challenged politicians, cost them their careers, was talked about in Parliament, appeared on the front pages of the Guardian and basically had a ball.
Now Mark and the show's producer Geoff Atkinson look back at the programme in a series of YouTube broadcast specials. Discussing their favourite clips, Mark and Geoff will be live with guests to discuss the adventure that was bound to cancel itself before the channel got round to it.
NOTE: The subtitled version of this show will be available as soon as possible after the show.
Mark Thomas
BEST BEFORE: The Mark Thomas Comedy Product Vintage Cuts
Purchase Options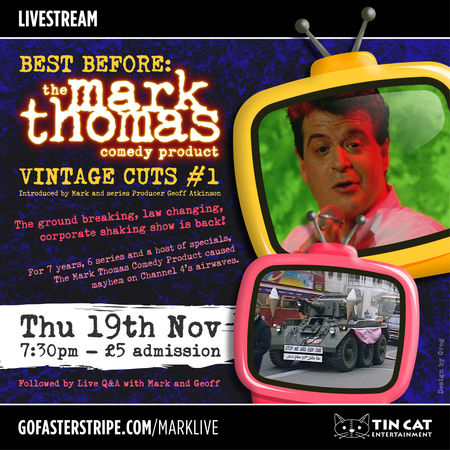 More from Mark Thomas
The show will be streamed from a private youtube link.
Further Info
Technical Info
7.30pm Show Starts
(rest tba)