"Richard Herring: Christ on a Bike" has been added to your cart
Richard Herring
Christ on a Bike
gfs-353 disc set
Jesus Christ - Son of God! Saviour of mankind! Superstar!

Richard Herring - Son of Keith, a retired headmaster! Once saved a spider that had become trapped in his bath, only crushing three of its legs in the process! Hosted 10 episodes of a chatshow about poker on a satellite channel which subsequently closed down!

At first sight they have little in common. Or do they?

Join Rich as he answers this question, substantially reworking his first and favourite solo work, Christ on a Bike. Now ten years older than the Messiah when he died, has Herring achieved as much with his life?
Richard Herring
Christ on a Bike
Purchase Options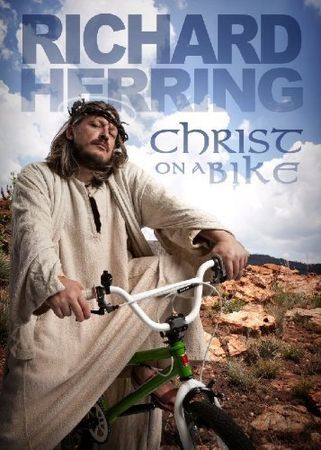 More from Richard Herring
'I'm not saying I'm Jesus..... that is for other people to say.'
Further Info
Download Version Info
main show
running time - 93 mins
filesize - 686mb

video podcast IV
running time - 75 mins
filesize - 761mb
rich cam
running time - 112 mins
filesize - 1.1gb
Richard Herring in Fiji
running time - 67 mins
filesize - 856mb
pyro peter
running time - 4 mins
filesize - 43mb
yahtzaa masterclass
running time - 12 mins
filesize - 95mb
the unforgivable sin
running time - 6 mins
filesize - 69mb
interview at the glee
running time - 26 mins
filesize - 337mb
frog and bucket heckler
running time - 12 mins
filesize - 85mb
emailed letters
running time - 22 mins
filesize - 75mb
a whole jesus
running time - 6 mins
filesize - 50mb


These files have no copy protection, and should play on every device that exists. If you can't get it to play - get in touch and you can have your money back.

To play the video version on an ipad, ipod or iphone you can stream the files directly from our site.

If you wish to put them onto your apple device, you will first need to download the file onto a computer and them import it via itunes. Download Info