"Andrew Collins: Secret Dancing" has been added to your cart
Andrew Collins
Secret Dancing
gfs-26The Farewell Performance
In the summer of 2010, Andrew Collins turned Secret Dancing, his technique for covert physical expression on public transport, into a one-hour, one-man comedy show for the Edinburgh Fringe. After some warm-ups in Brighton, London and Northampton, he performed the show 16 times as part of PBH's Free Fringe in Edinburgh.

It was a happy experience, earning him a number of 'solid' three-star reviews, but it taught him that stand-up is not something you can dabble in lightly, so he retired while his dignity and health were still intact.

On 3 November, 2010, Cardiff's Masonic Hall staged the final performance of Secret Dancing. It went on a bit longer than one hour. This is it.
Andrew Collins
Secret Dancing
Purchase Options
ON SALE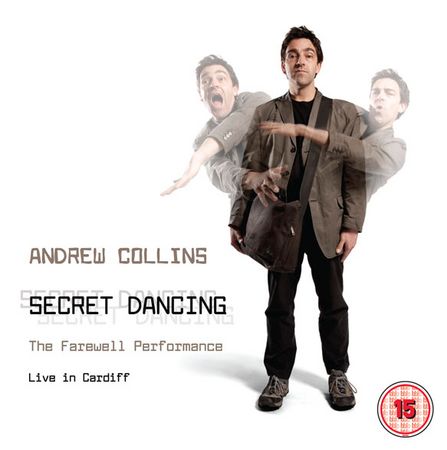 More from Andrew Collins
'A smart, very funny first show. I can't wait to see his second.'
Sarah Millican

'might be the greatest comedy DVD of all time'
Richard Herring
Further Info
Technical Info
Running Time - 1hr 10mins
Extras - 1hr 38mins
DVD9 - 16:9
Region 0 - PAL
Stereo - In Colour
Download a Large DVD Cover
Download Version Info
main show
running time - 70 mins
filesize - 800mb

edinburgh bootleg
running time - 61 mins
filesize - 560mb
richard herring's intro
running time - 4 mins
filesize - 40mb Download Info