"Richard Herring: Hitler Moustache" has been added to your cart
Richard Herring
Hitler Moustache
gfs-21
Has Adolf Hitler ruined that moustache for everyone? The only place you will see it these days is carved into a woman's pubic hair. Is it possible to reclaim the toothbrush moustache for comedy? After all, Chaplin had it first.

This download comes with the main show, a video podcast by Rich and Andrew Collins and stacks of other extras.

You also get an mp3 audio version of the show.
Richard Herring
Hitler Moustache
Purchase Options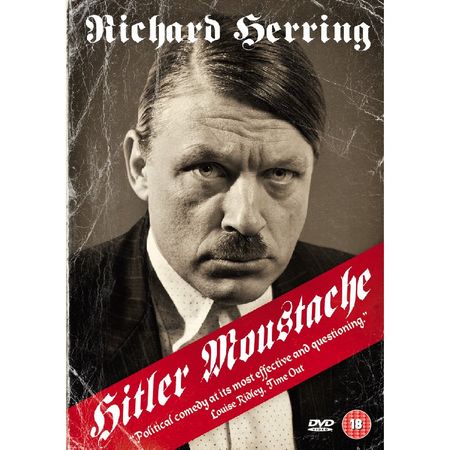 More from Richard Herring
Further Info
Download Version Info
main show
running time - 99 mins
video filesize - 1.2gb
audio filesize - 125mb

video podcast III
running time - 63 mins
filesize - 684mb
Out-takes
running time - 8 mins
filesize - 82mb
Preview Version
running time - 67 mins
filesize - 628mb
Before We Started
running time - 8 mins
filesize - 57mb
World's Oldest Heckler
running time - 14 mins
filesize - 111mb
Tape Change
running time - 9 mins
filesize - 207mb
Tour Diary
running time - 37 mins
filesize - 421mb
Suit Stories
running time - 5 mins
filesize - 63mb

These files have no copy protection, and should play on every device that exists. If you can't get it to play - get in touch and you can have your money back.

To play the video version on an ipad, ipod or iphone you can stream the files directly from our site.

If you wish to put them onto your apple device, you will first need to download the file onto a computer and them import it via itunes. Download Info