"Richard Herring: BOOK BUNDLE
Three Book Special" has been added to your cart
Richard Herring
Emergency Questions Book
gfs-84over 500 EQs
Have you ever stamped on a mouse?

Do you remember the Rubik's Snake? Please tell me about all your memories of it.

Who was your favourite member of Blazin' Squad?
(mine was Plat'num)

Did you ever consider a career in dentistry? (do not ask this to a dentist. It would be rude)

These are all questions that were never considered for inclusion in this book of Emergency Questions. And when you see the quality of what is inside this inquiring tome then you will understand why. Over 500 questions from the brain of "nationally-known comedian" (Cheddar Valley Gazette) Richard Herring (and occasionally from a Welsh child working inside his question mine) which are all perfect ice-breakers at parties, on dates, during job interviews or life-threatening situations, lie within. They are especially useful if you host a weekly podcast interviewing celebrities, but have run out of stuff that you got off Wikipedia and can't think of anything else to say.

By buying this book you are helping to pay for the production of even more episodes of Richard Herring's Leicester Square Theatre Podcast.
Richard Herring
Emergency Questions Book
Purchase Options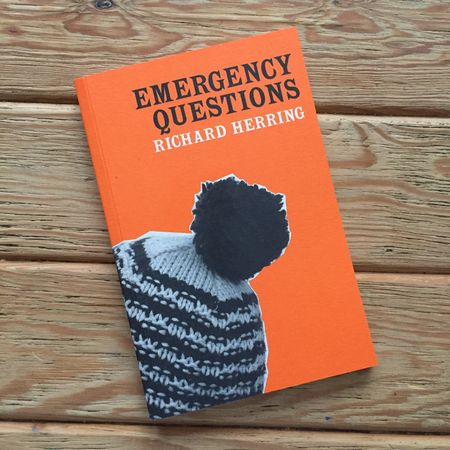 More from Richard Herring
Deluxe Editions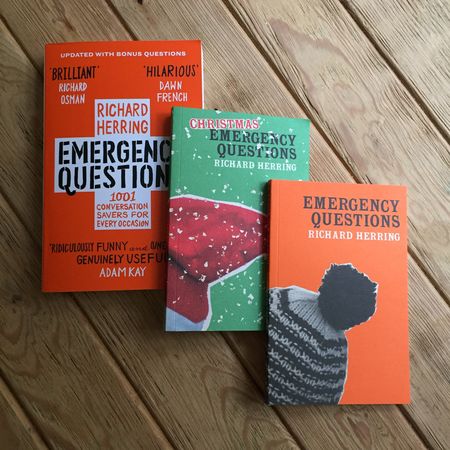 BOOK BUNDLE
Three Book Special
1. The original Emergency Questions book that started it all. 500 questions for any occasion.
2. The Christmas Emergency Questions book containing 253 Christmas themed questions and 227 ordinary year round ones.
3. The brand new fancy 1001 Emergency Questions book. With almost completely different questions and the answers from some famous guests.
SOLD OUT
Further Info
Technical Info
EQs - over 500
pages - 128