More Nine Lessons and Carols
For Godless People
gfs-462011's secular variety show
Thanks for reading the writing about this DVD, which is the third in the Nine Lessons and Carols series.

The shows are put together each year by Robin Ince and are a beautiful hotch potch of non religuous Christmas fun.

Watching this is like watching the Royal Institution Christmas lecture crossed with the Royal Variety Show. It's informative, funny and you never know what's coming next.

And it has a star stuffed line up - this DVD features Robin Ince, Richard Herring, Steve Mould, Helen Arney, Matt Parker, Isy Suttie, Marcus Du Sautoy, Jo Neary, Gavin Osborn, Ian Stone, Grace Petrie, Nick Doody, Josie Long and Alan Moore.
More Nine Lessons and Carols
For Godless People
Purchase Options
ON SALE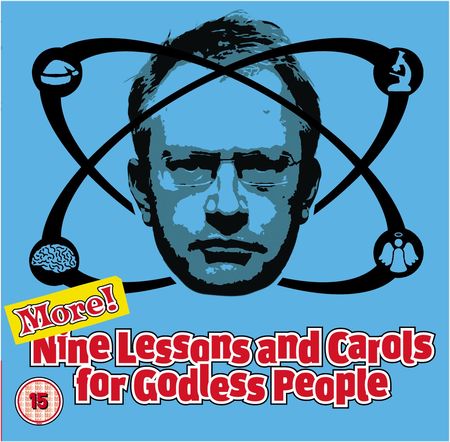 If there's one thing I can't stand, it's the creeping commercialisation of secular Christmas shows.
Stewart Lee
Further Info
Technical Info
Main Show - 2hrs 27mins (hooray!)
Extras - 3mins (boo!)
DVD9 - 16:9 (woo!)
Region 0 - PAL (ahh!)
Stereo - In Colour (wowee!)
Download a Large DVD Cover