Richard Herring
Oh Fuck, I'm 40!
gfs-12Rich is 40. And we've a double disc to celebrate.
Our first double DVD!

This is a recording of the show made in March 2008, when Rich was coming to the end of his 40th year. And much like an old man's belly, this release is our most bloated to date. So bloated in fact that we need another disc to fit everything on.

So, as well as the usual extras like an interview and photo slide show, there's a specially shot documentary retracing Rich's infamous night in Liverpool, a video version of Rich's podcast with Andrew Collins, the complete one off comedy drama 'A Very British Cult' and lots more.


---
When Rich originally performed this show, he printed up some programs, and when he finished, he found he had quite a few left. We have what remains, and you can have one for another £2. Half of this pays for the postage, and the other half will go to Scope.
Richard Herring
Oh Fuck, I'm 40!
Purchase Options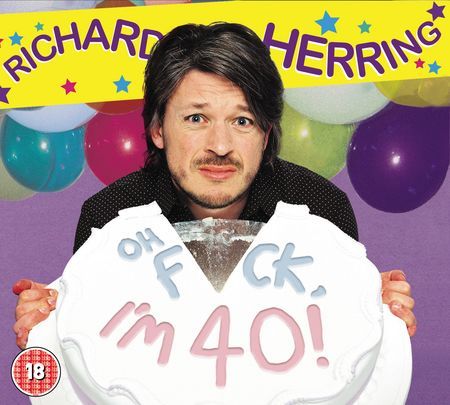 More from Richard Herring
'very clever' 4 stars
The Scotsman

'Terrific' 4 stars
The Guardian

'Herring is still a big fish on stage' 4 stars

Winner Best Live Show, NotBBC Comedy Awards 2006
Further Info
Download Version Info
Oh Fuck, I'm 40!
running time - 1hr 33min
filesize - 725mb

Extras
Collings and Herrin - Video Podcast
running time - 62min
filesize - 667mb

Interview with Tony Law
running time - 23min
filesize - 224mb

Back in Liverpool
running time - 19min
filesize - 224mb

Comedy Bunker Preview
running time - 53min
filesize - 607mb

Out takes
running time - 8min
filesize - 91mb

Wam Bam Heckler
running time - 12min
filesize - 107mb

A Very British Cult
running time - 24min
filesize - 217mb

mp3 audio
running time - 93min
filesize - 109mb



These files have no copy protection, and should play on every device that exists. If you can't get it to play - get in touch and you can have your money back.

To play the video version on an ipad, ipod or iphone you can stream the files directly from our site.

If you wish to put them onto your apple device, you will first need to download the file onto a computer and them import it via itunes. Download Info