"Arnold Brown: Jokes I Have Known" has been added to your cart
Arnold Brown
Jokes I Have Known
gfs-41The legendary grandfather of alternative comedy
Arnold Brown is the missing link between the distinctly unrelated twin worlds of comedy and accountancy, so it is not surprising that we at Go Faster Stripe are delighted to add him to our select list of left-field comedy innovators. Arnold's first stand-up appearance was at the opening night of the 'Comedy Store' on May 1979 in London's Soho.

Throughout the 1980's,he went on to become one of the pioneers of the Alternative Comedy movement, performing alongside such luminaries as Alexei Sayle, Rik Mayall, Ade Edmondson, Nigel Planer, Peter Richardson, Dawn French, Jennifer Saunders and Ben Elton et al, both at the 'Store' and later at the nearby 'Comic Strip'. (Arnold insists that dropping names is an essential part of the entertainment business...).

In 1987,Arnold Brown was the first stand-up comedian to win the prestigious Perrier Award at the Edinburgh Festival. 'Time Out' has described him as 'the best laconic comedian in the U.K.' His style continues to resonate throughout the contemporary comedy scene and among many others, Stewart Lee cites him as a major influence.

This DVD captures him in an intimate, idiosyncratic performance at Cardiff's Chapter Arts Centre. The show is interspersed with extracts of an interview with Arnold waxing lyrical on his long, unique career and in the process, revealing some of his comedy secrets.

The DVD also includes a hilarious after-show chat with fellow-comedian Norman Lovett, together with a half-hour programme from Cable Access TV in New York profiling ourselves here at Go Faster Stripe.
Arnold Brown
Jokes I Have Known
Purchase Options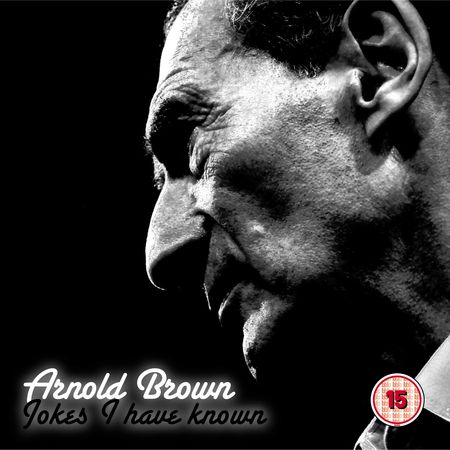 Further Info
Download Version Info
main show
running time - 52 mins
mp4 filesize - 1.1gb
mp3 filesize - 64mb

Norman and Arnold's aftershow chat
running time - 39 mins
filesize - 394mb
Media Funhouse
running time - 28 mins
filesize - 249mb
Download Info