Welcome to Go Faster Stripe. We make and sell DVD recordings of comedians that are tragically overlooked by the mainstream.
Our DVDs are cheap - mostly £12 - and they come in the sort of cardboard wallets you get with free DVDs from newspapers. That's the kind of forward thinking that keeps the price down and our profits up.
---
---
The Third Go Faster Festival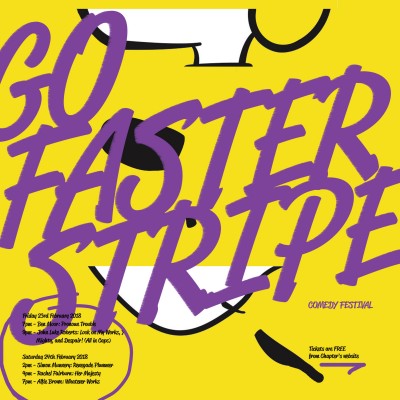 We are getting together some very splendid acts in Cardiff for filming, dancing and fun (dancing optional). Click here for details.
---
Look at our lovely things!
---
---
---
---
Richard Herring
Christmas Emergency Questions
£10
Add to basket

253 Christmas based, 227 normal and then another 24 Christmas questions [more]
---
Christian Reilly
Lolternative Rock (cd)
£10
Add to basket

live at the Edinburgh Festival [more]
---
Ruby Wax
Sane New World
£12
Add to basket

A manual on how to survive the 21st century [more]
---
---
---
Richard Herring
Postcard and Badge set
£5
Add to basket

5 postcards and 5 badges [more]
---
---
---
---
---
---
---
---
---
Richard Herring
Happy Now?

[more]
---
Tony Law
The Force of Life Nice Awakensing
£12
Add to basket

2 shows from Tony [more]
---
---
---
Christian Reilly
Songs of Praise The Movie
£12
Add to basket

brings Peace on Earth through the power of musical comedy [more]
---
---
---
---
Robin Ince
Robin Ince's Last Ever Show
£15
Add to basket

it's a double disc spectacular! [more]
---
---
Sean Hughes
Mumbo Jumbo
£12
Add to basket

It's common sense against mumbo jumbo and mumbo jumbo seems to have the upper hand. [more]
---
---
---
Richard Herring
Lord of the Dance Settee

[more]
---
---
---
---
---
Simon Donald
Him Off the Viz

revised! expanded! semi-tumescent! [more]
---
Austentatious
An Improvised Jane Austen Novel
£12
Add to basket

Live at Leicester Square Theatre [more]
---
---
Richard Herring
We're All Going To Die

Double Disc Set [more]
---
---
---
---
---
---
John Cage
Indeterminacy CD
£12
Add to basket

Performed by Steve Beresford, Tania Chen and Stewart Lee [more]
---
Robin Ince
The Very Least Worst Of Robin Ince
£12
Add to basket

3 of his least worst hours [more]
---
---
Richard Herring
Talking Cock (the second coming)

[more]
---
Richard Herring
10
£12 SALE! £5
Add to basket

extracts from Rich's last 10 shows [more]
---
---
Fist of Fun
The Complete Series 1 and 2
£20


out of stock

[more]
---
---
The Boothby Graffoe Mish Mash
£12
Add to basket

bits of this and other bits of that [more]
---
Robin Ince
Happiness Through Science
£12
Add to basket

Robin's wonderful romp though science [more]
---
Richard Herring
The Box Lady and Other Pesticles
£12


out of stock

Warming Up: Volume 2 [more]
---
More Nine Lessons and Carols
For Godless People
£12
Add to basket

2011's secular variety show [more]
---
Fist of Fun - Series 2
£25


out of stock

[more]
---
Arnold Brown
Jokes I Have Known
£12
Add to basket

The legendary grandfather of alternative comedy [more]
---
Richard Herring
What Is Love, Anyway?

'What is l-uh-uh-uh-uh-uh-uh-uh-uhve anyway? [more]
---
Richard Herring
Talking Cock
£12 SALE! £5


out of stock

limit of 2 per customer [more]
---
Robert Wringham
You Are Nothing
£12
Add to basket

Thee Fyrst and Onlie History of Cluub Zarathustra [more]
---
---
---
Ten Lessons and Carols for Godless People
£12
Add to basket

Double cd of Robin Ince's 2010 secular Christmas concert [more]
---
---
Richard Herring
Christ on a Bike (disc 3)
£10


out of stock

This is just the bonus disc [more]
---
Richard Herring
Christ on a Bike

3 disc set [more]
---
Tony Law's
Brainporium
£12


out of stock

Stand by! It's Tony's second DVD! [more]
---
Stewart Lee
The Jazz Cellar Tape CD
£10
Add to basket

warning - poor material primitively recorded [more]
---
---
Wil Hodgson
A Hatful of Hodgson
£15
Add to basket

So there's this man and he walks into a pub [more]
---
Richard Herring
AIOTM - The Complete Cumpkin
£15
Add to basket

Everything AIOTM (and a poster) [more]
---
Baba Brinkman
The Rap Guide to Human Nature
£12 SALE! £4
Add to basket

Live at the Alley Cat, London [more]
---
---
---
Kevin Eldon
is Titting About
£12
Add to basket

he's titting about, he's titting about [more]
---
Peacock Season
£12 SALE! £4
Add to basket

The Edinburgh Festival is a funny place to be... when you're not funny [more]
---
John Shuttleworth
The Minor Tour
£12
Add to basket

(and other mythological creatures) [more]
---
---
Richard Herring
Hitler Moustache (disc 3)
£10
Add to basket

just the bonus disc [more]
---
Richard Herring
As It Occurs To Me - Secret Stand-up
£12


out of stock

Listen to the stand-up that no one will ever hear [more]
---
Collings and Herrin
The Best of Earth, Wind and Fire (and Water)
£5
Add download to basket

Will these two make any money from their podcast cd? Only you can decide. [more]
---
Richard Herring
The Headmaster's Son
£15 SALE! £6
Add to basket

So who's fault is it that Rich turned out the way he did? [more]
---
Nine Lessons and Carols
for Godless People
£12 SALE! £4
Add to basket

have a happy secular christmas [more]
---
---
Andrew Collins
Where Did It All Go Right?
£12 SALE! £4


out of stock

Here's a 4cd audio book. [more]
---
Stewart Lee
What Would Judas Do?
£12
Add to basket

This three CD set is all that remains of Stew's ace theatre show. [more]
---
Richard Herring
Oh Fuck, I'm 40!

Rich is 40. And we've a double disc to celebrate. [more]
---
Richard Herring
Bye Bye Balham
£12 SALE! £5


out of stock

Warming Up: Vol 1 [more]
---
---
Tony Law
an hour and some of tony law
£12
Add to basket

'Yeah.... Yeah! .... YEAH!!....' [more]
---
Wil Hodgson
Skinheads, Readers' Wives and My Little Ponies
£12
Add to basket

We are pround and happy to present the first DVD by Chippenham's own Wil Hodgson. [more]
---
Lucy Porter
The Good Life
£12 SALE! £4
Add to basket

Lucy Porter brings you The Good Life. [more]
---
Richard Herring
ménage à un
£12
Add to basket

Just two people short of a threesome [more]
---
Simon Munnery
Hello
£12
Add to basket

Simon performs a zooped up best of from his last three AGM shows. [more]
---
---
Stewart Lee
Pea Green Boat (CD version)
£6


out of stock

Stewart Lee's show finally finds its home as a 21 minute audio performance. [more]
---
Richard Herring
Someone Likes Yoghurt

The Daily Telegraph's worst comedy experience of 2005 [more]
---
Richard Herring
Twelve Tasks of Hercules Terrace
£10 SALE! £4
Add to basket

A release from Rich's vaults, filmed by someone else, before we were born.
Please read the historical quality warning [more]
---
Stewart Lee
90s Comedian
£12
Add to basket

Stewart Lee's celebrated 2005 show, and our first ever release. [more]
---