Richard Herring
Would You Rather
WYRwith signed bookplate and stickers
A special GFS edition of Rich's book. It's exactly the same as the one everyone else is selling, except it includes

a bookplate signed by Rich (including a brand new mono ball version of his signature cock and balls ... um .. signature)
some self playing snooker federation stickers
The perfect boredom-busting book for long winter evenings with the family, Richard Herring's Would You Rather? is packed with hundreds of the biggest questions to face us all, including:
Would you rather have a conversation with a dolphin or an elephant?
Would you rather fall in love or fall into a swimming pool full of your favourite biscuits?
Would you rather live in a giant shoe or a giant peach?
Would you rather own a car with Jimmy Carr, a lorry with Laurie Anderson or a van with Van Morrison?
The questions will have the whole family, whether 6 or 106, debating on car journeys and train journeys, or stuck in on wet days during the school holidays, and will keep you entertained around the table at Christmas lunch (or when you're falling asleep after Christmas lunch…).
Fun, family-friendly and often completely bonkers, this book is a perfect gift as well as a game.
Richard Herring
Would You Rather
Purchase Options
SOLD OUT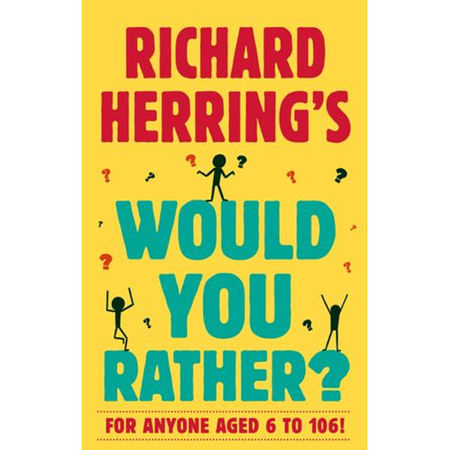 More from Richard Herring
Media