Richard Herring
RHLSTP #300
rhlstp300in aid of Refuge
RHLSTP #300 Richard Herring (interviewed by John Robins)

Socially Distanced

It's a momentous occasion, not only the 300th numbered RHLSTP, but the first one since March in front of an audience. We're at the prestigious Bill Murray pub in North London. Richard sits stage right for the first time (except when he interviewed himself for a kickstarter extra) and is being interrogated by John Robins behind a perspex screen.

But is it to save the audience from corona or the people on stage from the unguents that will doubtless be flung by the Die Hard fans in attendance (why have they come to this? Surely they should be watching a DVD of Bruce Willis). They chat about The Problem With Men, whether there are regrets about old material, the philosophy behind stone clearing, the Stewart Lee issue, skirting the line betwixt political correctness and comedy and playing with madness as we plummet towards old age and death. It's the real Richard Herring, not the crazy character (mainly) and includes new Emergency Questions sent in by listeners: Time travel, desert island Johns and Robins, penises, Japanese porn and much more.

All the money raised from the sale of this download will go to Refuge.

Buy Richard's book, ebook or audiobook (for example) here https://www.amazon.co.uk/gp/product/0751581453

Richard Herring
RHLSTP #300
Purchase Options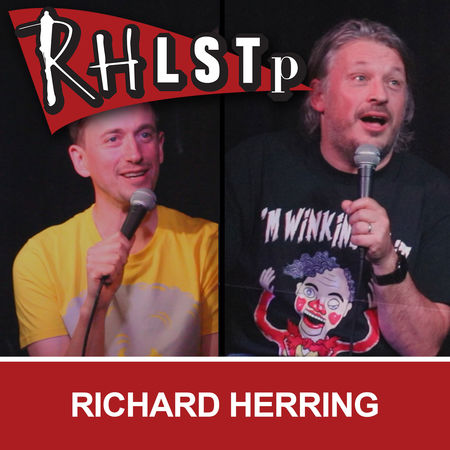 More from Richard Herring
Further Info
Technical Info
RHLSTP #300
running time - 74min
filesize (video) - 1.3gb
filesize (audio) - 98mb

Extras
Extra bit
running time - 29min
filesize (video) - 503mb
filesize (audio) - 39mb

These files have no copy protection, and should play on every device that exists. If you can't get it to play - get in touch and you can have your money back.

To play the video version on an ipad, ipod or iphone you can stream the files directly from our site.

If you wish to put them onto your apple device, you will first need to download the file onto a computer and them import it via itunes.