John-Luke Roberts
AIWDI [FXG] WA [FXGR] and a [FXCR] APSC!
gfs-103
The physical version of this show comes as a download code on the back of a John-Luke Roberts souvenir blue moustache

One of the Edinburgh Fringe's most celebrated talents of recent times sets out on his first full national tour. John-Luke Roberts' show this year was a complete sell-out run and one of the most talked-about shows of the festival: a dizzying avant-garde ride through the mind of a gifted comic-philosopher. One with a blue moustache. Who thinks far more about the Spice Girls than anyone should. A masterclass in prop, clown, costume and Mel C-themed comedy. And that's all we can tell you on the website, because his stupid title takes up the rest of the allotted space.
John-Luke Roberts
AIWDI [FXG] WA [FXGR] and a [FXCR] APSC!
Purchase Options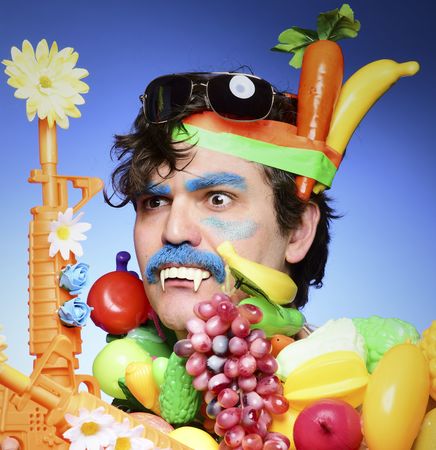 Pay what you want!
More from John-Luke Roberts
Freewheeling escapism…A joy.
★★★★★ Fest Magazine

A masterpiece…The show is exquisite, with every last element fine-tuned to perform its function.
★★★★★ One4Review

A relentless tempest of insanely inspired shenanigans; a dizzying parade of mad skits and eccentric characters, all built on a nugget of peculiar innovation…Unflaggingly funny.
★★★★.5 Chortle

An impeccably choreographed, giddily inventive, turbo-charged hour.
★★★★ The Telegraph
Further Info
Download Version Info
All I Wanna Do Is [FX: GUNSHOTS] With a [FX: GUN RELOADING] and a [FX: CASH REGISTER] and Perform Some Comedy!
running time - 1hr 5min
filesize (1080p) - 2.7gb
filesize (720p) - 1 gb
filesize (mp3 audio) - 105mb


Extras
Cut Bits
running time - 3min
filesize - 39mb

These files have no copy protection, and should play on every device that exists. If you can't get it to play - get in touch and you can have your money back.

To play the video version on an ipad, ipod or iphone you can stream the files directly from our site.

If you wish to put them onto your apple device, you will first need to download the file onto a computer and them import it via itunes. Download Info