About Us
It all seems to have passed in a blur, but this is how it happened.
Two years ago, I saw Stewart Lee's 90s Comedian in Cardiff. It was fantastic - so good in fact that I wanted to buy it and take it home. My then girlfriend bought me Stew's DVD for Christmas, it was great, but of the previous year's show. So, I took a look at Stew's website, and on it he said that there would be no follow up release, as no one bought the current DVD.
That's a shame, I thought. And then I had a bath and I had this idea. I work at Chapter Arts Centre, and they have a nice theatre. I've a couple of friends that are cameramen, and someone else I know knows all about sound, and one of my cameramen friends is married to an editor.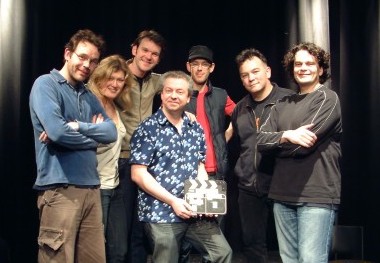 I wrote to Stewart Lee, and told him that we could record his DVD, and to his great credit, he said he would come to Cardiff for a day to give it a go. I think it surprised all of us when it came out rather well.
So, we decided to offer it for sale. We thought we'd do it as cheaply as we could.
We are fed up of seeing great comedy disappear into the ether, and so decided to save some. And to try and sell it. There may be sound financial and moral reasons why certain shows do not get recorded, but we don't care about them.