RHLSTP
Series 4 - episode 6
Ross Noble
rhlstp04-06Trojan Badger
The company director with the sexiest voice in the world is in the front row and Richard is needlessly rude to his less sexy fans.

His guest is one of the world's greatest improvisors, Ross Noble and Richard shows how hard interaction can be by failing to find anything funny to say about the rest of the front row. But luckily from there on in he is not going to get a word in edgeways as Ross talks non-stop for approaching 100 minutes about TAI Fridays, what it's like to own a tank, convincing his daughter that he's a wizard, why you can't trust Twitter to provide medical advice, why he's more Geordie than Cheryl Cole and how difficult it is to peel potatoes when all your possessions have been destroyed.

There are also pyres of burning animals and mad cow leather trousers and criticisms of a hopefully still living Bruce Forsyth.

Can Ross get comedy gold where Richard failed by interrogating a child therapist in the front row or can it only end in disaster? Can the pair keep the podcast going forever? Is it still going on now? Will you ever be able to catch up?
RHLSTP
Series 4 - episode 6
Ross Noble
Purchase Options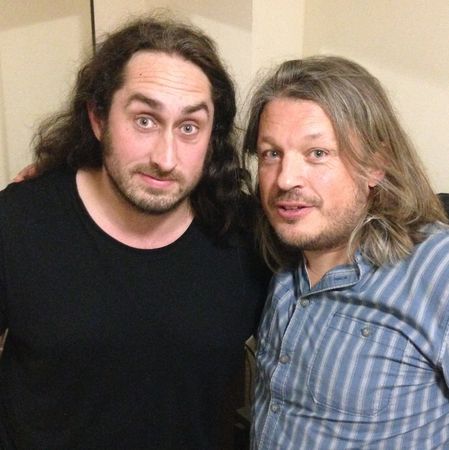 Further Info
Technical Info
Running Time - 1hr 33min
Download Size - 657mb